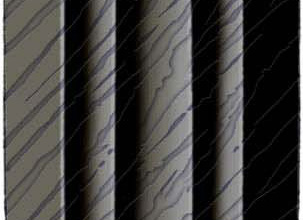 Here is a glimpse of the concept art for Longclaw's blade. This texture is going to be achieved with an etch and glaze wash combination. We went through around 16 different styles of blade coloring & texturing with George R.R. Martin before he picked this style for Longclaw. It is very dark, almost black, with jagged lightning bolt-like streaks. I know many people envision modern damascus steel when they think of Valyrian, but GRRM wanted something significantly darker.
Interesting though, in the design revision process he mentioned that while he liked this style for Longclaw, other blades might have different texture patterns. So apparently different Valyrian steel blades can exhibit different textures.
We've finalized the techical drawings for the blade, from crossguard to tip it will be around 39 3/4 inches, and at the crossguard the blade measures almost 2 3/4 inches wide.
Manufacturing tooling should begin in June or July, and we expect a prototype to be ready in September or October. Assuming GRRM has no problems with the protoype we'll start taking preorders at that point for delivery in early 2008.
More concept art shall be released at a later date.