At long last I can share with you some news on our GRRM A Song of Ice and Fire book license. We have new approved concept art, it took awhile, but here is Oathkeeper.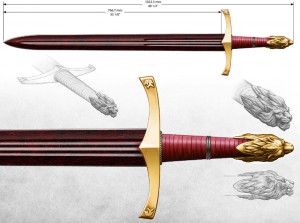 Again, this was designed working with George R.R. Martin through our book license, it is not a replica of Oathkeeper as see on the HBO show.
George did not want to use paint and the only way we know to do the red and black blade is with a chemical patina on real damascus, so our intention here is to make only a real damascus version of this sword, there will not be a plain steel version. We also intend to include a custom poster featuring artwork the includes the sword, along with the typical GRRM autographed COA.
At this point preorders will not be opening soon, this is just the first step. Expect preorders possibly late Winter 2015, and deliveries around a year from now, assuming we get the prototype in and everyone is happy with it.
We also got approved concept art for Daario's ladies on the book license, which will be shared with you soon.