HBO released a ton of media last night for "A Game of Thrones" in conjunction with the True Blood season finale. There was a teaser trailer called "Raven", a behind the scenes trailer, and a few glimpses during a HBO new show montage, including the penultimate image of the montage, which to me says HBO is putting this show ahead of all others.
Raven Tease:

Behind the Scenes (including a shot of Maisie Williams grinning at the camera as Arya):

The new show montage with that nice penultimate scene is here:

Finally, we have some pictures of our production of Ice to share with you. They aren't finished pictures, the sword has a brown leather grip as a placeholder, instead of the finished antiqued white leather grip, but you can see some of the details, the gold plated crossguard rings, etc. The blade size won't be readily apparent. Unfortunately with Ice being at the current state of production, along with GRRM's hectic travel schedule for the rest of the year, it probably will not be out for Christmas deliveries, more likely very early 2011 (why does this always seem to be the case?).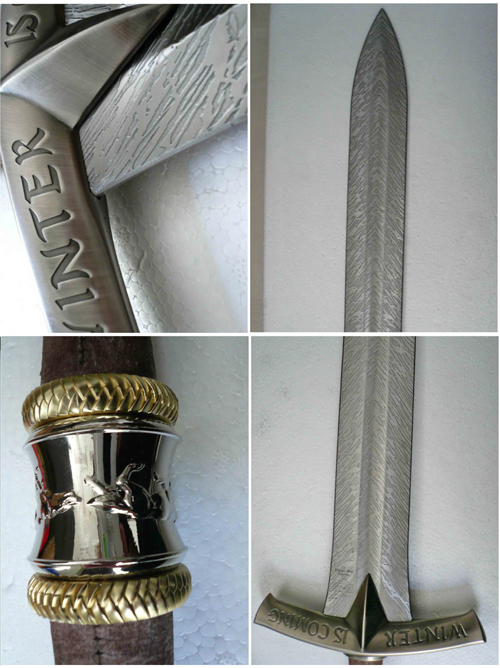 On the Damascus Longclaw front, all we can say is we are working on them.